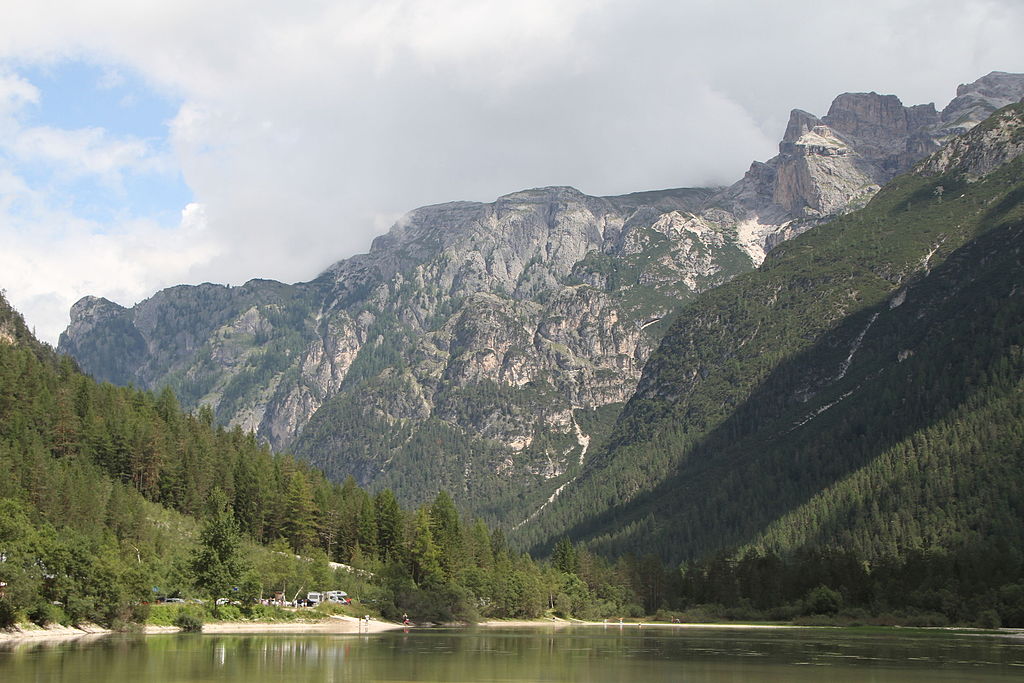 This body of water lying in the bottom of the Val di Landro , just before it is to Misurina Fork and Cimabanche , 20 km from Cortina.
The path of the " Pioneers " : 2.45 to 3.30 hours ; trail 6; (for experts . Considerable historical interest .) From Bar Floralpina through a sparse forest, you will come to the top of the path . The climb from the lake to the summit of Mount Piana is tiring , and it comes to the middle station of the ropeway military , then up again, to the canyon to the north / east .
The descent is the fastest path to the 103 , which leads to Val Rinbianco.Dalla to Rifugio Val di Landro Bosi : Bar hours 3Dal Floralpina follow the path 102, which leads into the Val Rienz ; where he received the Val Rinbianco . Recommended that the short detour up to the rock of San Marco , crossing the Rienza . Back at the bottom take the path 103 to the junction , where , on the right , comes off a trail to the fork of the Castrade . Staying on the main track in 30 minutes , you arrive at Casèra of Rinbianco . From here you turn on the trail 6 . Ascent of Mount Piana for the " tourist trail " : 3 hours (for experts).
From Carbonin follow the road to Misurina and turn left onto a narrow road that reaches the side of the monte.Da here the trail climbs the mountain. Ascent Pratopiazza and Dürrenstein
Pratopiazza is a broad saddle between the private Dürrenstein and the group of the Croda Rossa, at the top of the valley of Stolla . The resort can be reached from Bridge Bràies.Dal Refuge Vallandro or Pratopiazza , it crosses all the Dürrenstein -Alpe , bend to the right, until you reach the summit, where a cross was erected . Climb to the Col Round Pratopiazza
From Pratopiazza to the south , you reach a ridge , where there is a great trail that leads to the summit of the Col Round : in front of the whole group of the Crystal .
The descriptions and journey times are approximate only for the purpose of giving a prior indication , the Hotel is not Liable for any change routes , closing roads or trails. Before leaving inquire at Tourist information offices or at the local alpine guides. We recommend using clothing and footwear from mountain